1990 BMW 535i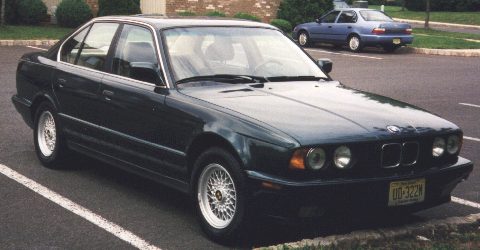 Purchased: October 1997 (NJ, USA)
Engine: 3.5 litre straight six, 205 HP
Transmission: 4-speed automatic
Color: 'Icelandic green' exterior, 'natural leather' interior
Story: For quite some time I wanted to have an early 90s BMW 5 series, since they looked pretty nice on the road - not too agressive, nor overtly flashy. Took me almost 2 years of serious looking (cruising car dealers every few weeks, watching the trade rags) before I found the right car at the right price (almost bought a 1994 530i about 8 months before this one, but it wasn't to be - and anyway, they look pretty much the same on the outside). Came with me to California in late 1999, and suddenly it seems soooo cliched to have one....