1995 BMW 325i Convertible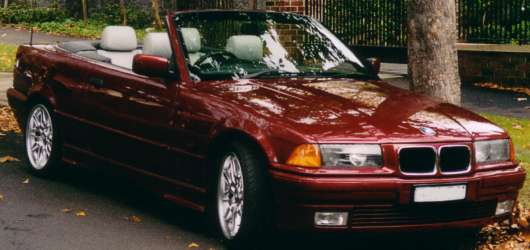 Purchased: April 2002 (Melbourne, Australia)
Engine: 2.5 litre straight six, 141kW (192BHP)
Transmission: 5-speed manual (stick)
Color: metallic burgundy exterior, light grey leather interior
Story: I moved back to Australia in early 2002 and had to leave my Mustang convertible and BMW in California with new owners. Within two weeks of arriving in Melbourne this used 325i convertible turned up from Queensland. The dealer replaced the standard rims and rubber with 17" rims and 235/40 tyres all round, and I bought it. Why? Just because. Mind you, 235/40s on the front are not the best idea - I do find myself fighting the steering on anything but perfect road surfaces.