1988 EA Fairmont Ghia (Ford Australia)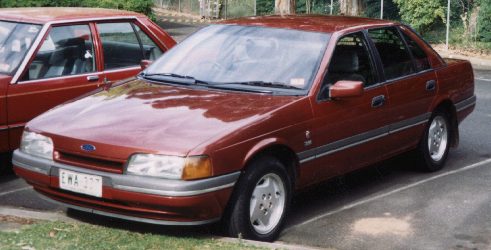 Purchased: 1993 (Victoria, Australia)
Engine: 3.9 litre straight six
Transmission: 3 speed automatic (but hey, it had cruise control - my first one!)
Color: Deep red exterior, grey cloth/velour interior
Story: Tired of 'student' cars (no airconditioning or other creature comforts), I eventually decided to try a more modern four door sedan. At least it had space to carry friends on trips, and the Ghia model typically came with cool electric gadgets that keep guys like me happy (the relatively useless-but-cool trip computer, for example). This car also marked another turning point - it was the first car I couldn't work on, because the engine bay was full of electronics and new fangled gadgets. The most work I ever did was repair the window winding motor of the driver's door - a far cry from the regular (re)assembly I was doing on all my previous cars. Had to say goodbye when I moved to the USA in July 1994.....