1998 GT Mustang Convertible (Ford)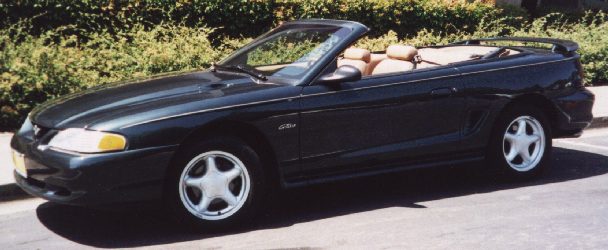 Purchased: May 2000 (CA, USA)
Engine: 4.6 litre V8, 225bhp
Transmission: 5 speed manual
Color: Deep green exterior, tan leather interior
Options: Mach 460 Premium Stereo
Story: What needs to be said? I've wanted to try a Mustang for a few years, and decided it had to be a late model convertible with the Mach460 sound system. Wanted to get a Mustang Cobra convertible, but they're a little on the rare and hard to find side. The late 1990s GT models have a pretty good amount of torque, nice styling, and a touch of that V8 rumble. So when I stumbled across this one recently at a dealer it had to be bought....