1970 VG Pacer (Chrysler)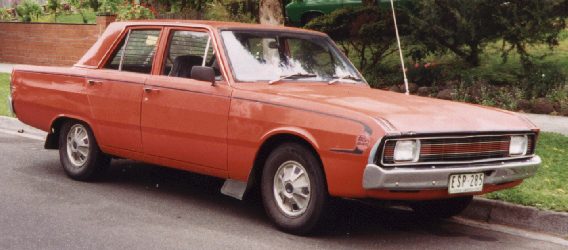 Purchased: (Victoria, Australia)
Engine: 245 HEMI (cu inches, approx. 4.0 litre) straight six (???bhp)
Transmission: 3 speed manual floorshift
Color: 'Hemi Orange' exterior, black interior (grey carpet)
Options: Four way airconditioning (you select how many windows to roll down while driving along...)
Story: In 1970 the 3-speed 245 VG Pacer was Chrysler's premium 'sports' car in Australia, its 245cu engine had a slightly hotter cam than the standard 245 engines at the time. Although it had been overshadowed in historical significance by the two-door Charger series introduced late in 1971, I just had to get one that I could to restore ot its previous 'glory'. Hardly a good looking car, even for its day, I had all sorts of plans for restoring the exterior (the photo shows the original colour scheme, but the paint was fading and cracked in parts), but only got as far as refurbishing the interior (sound deadener, new carpet) and installing a modern AM/FM/Cassette stereo. Then I headed off to the US in mid-1994 and had to sell....